Articles About Fire Insurance Cancellations
---
In the News and Upcoming Events
Pacific fisher - Update
On May 16, 2020 the United States Fish and Wildlife Service (USFWS) has decided to not list the Pacific fisher as threatened or endangered except for the southern Sierra population. Here is the link to the document in the Federal Register.
---
CDC image
How to Reach Us During the "Stay at Home" Order
In accordance with the Governor's Executive Order that went into effect March 19 at 11:59pm, our staff teams are working remotely until otherwise advised. During this time, we will not have access to live telephone answering. The best way in which to reach us is by email. Email us at info@forestlandowners.org. We will respond to messages in the order they are received within 48 hours. We thank you in advance for your continued patience as we navigate this situation. You may also leave us a voice message at (877) 326-3778.
Thought we were safe
THE PRESS DEMOCRAT
Jim Doerksen passed the first night of the Glass fire watching anxiously as the blaze burned to the east of his longtime St. Helena Road home, turning the sky an unsettling, deep red as the wildfire crossed the Mayacamas Mountains on its march toward east Santa Rosa and Highway 12.
The fire was close but moving south and southwest, on a path away from the refuge on Mark West Creek that Doerksen and his wife, Betty, have shared for nearly 40 years. Their 120-acre property, now owned by LandPaths, is home to the nonprofit's Owl Camp, attended each year by hundreds of school-age children who immerse themselves in the landscape Jim Doerksen, 81, has stewarded since 1967.

President Donald Trump talks with then-California Gov.-elect Gavin Newsom, left, during a visit to a neighborhood impacted by the wildfires in Paradise, Calif., Nov. 17, 2018.
Federal agencies fall short of Trump forest protection goals
By JOHN FLESHER Associated Press October 31, 2020 - 1:57pm
Nearly two years ago, President Donald Trump stood amid the smoky ruins of Paradise, California, where he blamed the deadliest wildfire in the state's history on poor forest management.
"You've got to take care of the floors, you know? The floors of the forest, very important," the president said.
He ordered the U.S. Forest Service and the Department of Interior to make federal lands less susceptible to catastrophic wildfires with measures such as removing dead trees, underbrush and other potentially flammable materials.

El Dorado National Forest, California. (Katy Grimes for California Globe)
California's forests endured countless droughts for about twenty million years
By Edward Ring, October 20, 2020 2:13 am
For about twenty million years, California's forests endured countless droughts, some lasting over a century. Natural fires, started by lightning and very frequent in the Sierras, were essential to keep forest ecosystems healthy. In Yosemite, for example, meadows used to cover most of the valley floor, because while forests constantly encroached, fires would periodically wipe them out, allowing the meadows to return. Across millennia, fire driven successions of this sort played out in cycles throughout California's ecosystems.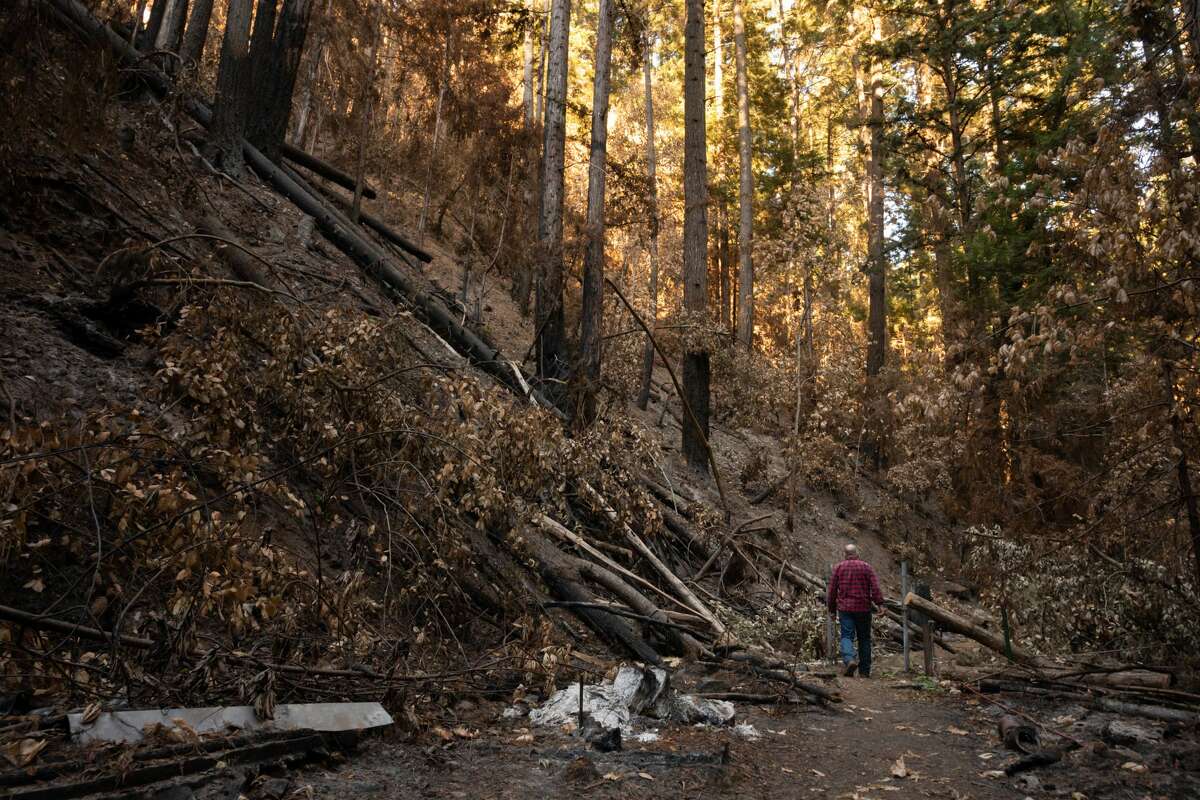 Tree-feller Bruce Baker is aware of many areas in and around Boulder Creek that are at high risk for debris flows. | Liz Celeste Photography
Rather than face deadly debris flows, some Calif. residents are evacuating permanently
Ashley Harrell
Oct. 20, 2020
Updated: Oct. 21, 2020 12:03 p.m.
Her house was spared by the CZU August Lightning Complex Fires. But Boulder Creek resident Jackie Hendricks isn't taking any chances with the next 2020 catastrophe on California's horizon: debris flows.
An erosion specialist evaluated Hendricks' property after the fire, and told her that the house is basically "at the end of a gun barrel," she says. What that means is when heavy rains come, the steep slope abutting Hendrick's property is likely to bring untold amounts of water, mud and detritus toward her home, possibly burying it. Rather than evacuating with her 13-month-old each time hard rain comes, Hendricks decided to relocate to Chicago for the winter.
New UC Book Offers Insight Into How Landowners Can Reforest Lands Ravaged by Wildfires Reforestation-book.jpg
BERKELEY, OCTOBER 8TH, 2020 – The University of California Agriculture and Natural Resources (UCANR) publications office today announced the release of a new book, "Reforestation Practices for Conifers in California", a practical manual for landowners and managers that explains the why, where, who, when, what, and how of getting sustainable forests back into California's diverse landscape. It is available now for immediate viewing and downloading for free on the Forest Vegetation Management Conference's website: www.fvmc.org. Next year the book will be published in full color print and web format by UCANR.
Fuel management projects 2019-2020, courtesy of CAL FIRE.
Governor Newsom Announces Completion of Emergency Projects to Protect Wildfire-Vulnerable Communities
SACRAMENTO – In a key step toward protecting California's most wildfire-vulnerable communities, Governor Gavin Newsom today announced the California Department of Forestry and Fire Protection (CAL FIRE) has completed work on 34 of 35 emergency projects identified last year to help reduce public safety risk in 200 communities at high risk of wildfires. All of the 35 projects are now working fuel breaks in case of wildfire, with the final project scheduled for completion this spring. Two of the projects successfully protected Santa Barbara residents during the wind-driven Cave Fire before Thanksgiving.