---
In the News and Upcoming Events

What's the Latest with Western Fire Resilience Efforts? The California Situation
Claire McAdams, California Forest Conservation Foundation and Forest Landowners of California
June 13, 2022
There are more than 87,000 discrete small forest landowners throughout California. The state's main policy focus is to "increase pace and scale:" to mitigate catastrophic wildfires by treating landscape- or watershed-scale parcels. Unfortunately, this focus on larger scale lessens direct aid opportunities for thousands of scattered small private-owned forestlands.
---
Articles About Fire Insurance Cancellations
Pacific fisher - Update
On May 16, 2020 the United States Fish and Wildlife Service (USFWS) has decided to not list the Pacific fisher as threatened or endangered except for the southern Sierra population. Here is the link to the document in the Federal Register.
---
CDC image
How to Reach Us During the "Stay at Home" Order
In accordance with the Governor's Executive Order that went into effect March 19 at 11:59pm, our staff teams are working remotely until otherwise advised. During this time, we will not have access to live telephone answering. The best way in which to reach us is by email. Email us at info@forestlandowners.org. We will respond to messages in the order they are received within 48 hours. We thank you in advance for your continued patience as we navigate this situation. You may also leave us a voice message at (877) 326-3778.

Casualty Losses As a Result of Fire or Other Casualty Events1
Your timberland has just experienced damage from a wildfire. What must you do now, to be able to claim a potential loss on your Federal and state tax returns?
What is a casualty loss? A casualty loss for individuals is defined in Section § 165(c) of the Internal Revenue Code (IRC) as follows: In the case of an individual, the deduction under subsection (a) shall be limited to (1) losses incurred in a trade or business; losses incurred in any transaction entered into for profit, though not connected with a trade or business; and . . . losses of property not connected with a trade or business or a transaction entered into for profit, if such losses arise from fire, storm . . . or from theft.
---
USDA Offers New Forest Management Incentive for Conservation Reserve Program
WASHINGTON, Jan. 19, 2021 – The U.S. Department of Agriculture (USDA) is making available $12 million for use in making payments to forest landowners with land enrolled in the Conservation Reserve Program (CRP) in exchange for their implementing healthy forest management practices. Existing CRP participants can now sign up for the Forest Management Incentive (FMI), which provides financial incentives to landowners with land in CRP to encourage proper tree thinning and other practices.
---
What Does the Passage of California Proposition 19 Mean for You?
Dear FLC Members,
At a recent meeting, we briefly discussed Proposition 19 and the potential impact on estate planning.
Important Disclosure: The information contained in the link below is not intended to be legal advice or tax guidance. You should contact your tax preparer or legal counsel with questions or to seek clarification.
View the informational video discussion.

Thank you,
Claire McAdams
President, FLC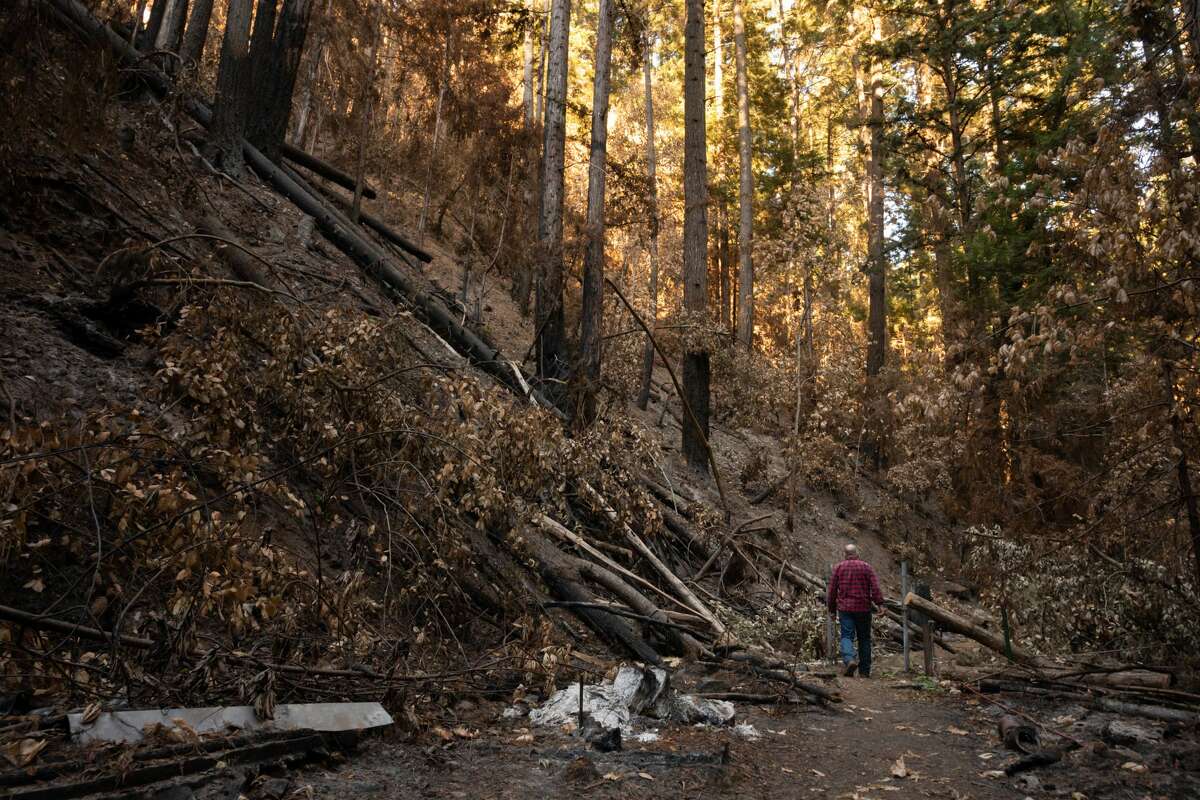 Tree-feller Bruce Baker is aware of many areas in and around Boulder Creek that are at high risk for debris flows. | Liz Celeste Photography
Rather than face deadly debris flows, some Calif. residents are evacuating permanently
Ashley Harrell
Oct. 20, 2020
Updated: Oct. 21, 2020 12:03 p.m.
Her house was spared by the CZU August Lightning Complex Fires. But Boulder Creek resident Jackie Hendricks isn't taking any chances with the next 2020 catastrophe on California's horizon: debris flows.
An erosion specialist evaluated Hendricks' property after the fire, and told her that the house is basically "at the end of a gun barrel," she says. What that means is when heavy rains come, the steep slope abutting Hendrick's property is likely to bring untold amounts of water, mud and detritus toward her home, possibly burying it. Rather than evacuating with her 13-month-old each time hard rain comes, Hendricks decided to relocate to Chicago for the winter.
---
Thought we were safe
THE PRESS DEMOCRAT
Jim Doerksen passed the first night of the Glass fire watching anxiously as the blaze burned to the east of his longtime St. Helena Road home, turning the sky an unsettling, deep red as the wildfire crossed the Mayacamas Mountains on its march toward east Santa Rosa and Highway 12.
The fire was close but moving south and southwest, on a path away from the refuge on Mark West Creek that Doerksen and his wife, Betty, have shared for nearly 40 years. Their 120-acre property, now owned by LandPaths, is home to the nonprofit's Owl Camp, attended each year by hundreds of school-age children who immerse themselves in the landscape Jim Doerksen, 81, has stewarded since 1967.
---